Well, we're officially into week three of quarantine, and if you're anything like me, you probably can't remember the last time you wore actual clothing. My life consists of combing through my loungewear shelves and trying to come up with different pairings that feel cute and fresh, but still cozy. The one thing that has been bringing me joy is trying to wear as many colours and prints as I did during my life in the "outside world."
I treated myself with a few updated pieces when this all began, which has made all of the difference. I've included some of them here, like the HillHouseHome Nap Dress, and the Spiritual Gangster tie dye set, alongside items that I'd love to add to my collection next. You may notice a running theme of pastels, tie dye and matching separates… if this time of self-isolation has taught me anything, it's that life is too short not to wear the things that thrill you.
I hope you are all holding up okay through all of this. I know it's challenging, especially due to the break-neck speed that it's all happened at. I'm so grateful for my life, my home, and for the health of my family. Mostly, I'm so grateful for the country that I live in, our amazing healthcare system, and the incredibly hard working medical professionals, first responders, grocery store workers, and people who are risking their lives every day to keep ours going. While these times are scary and difficult, I can't help but believe we will come through this stronger than ever. Sending love to you all.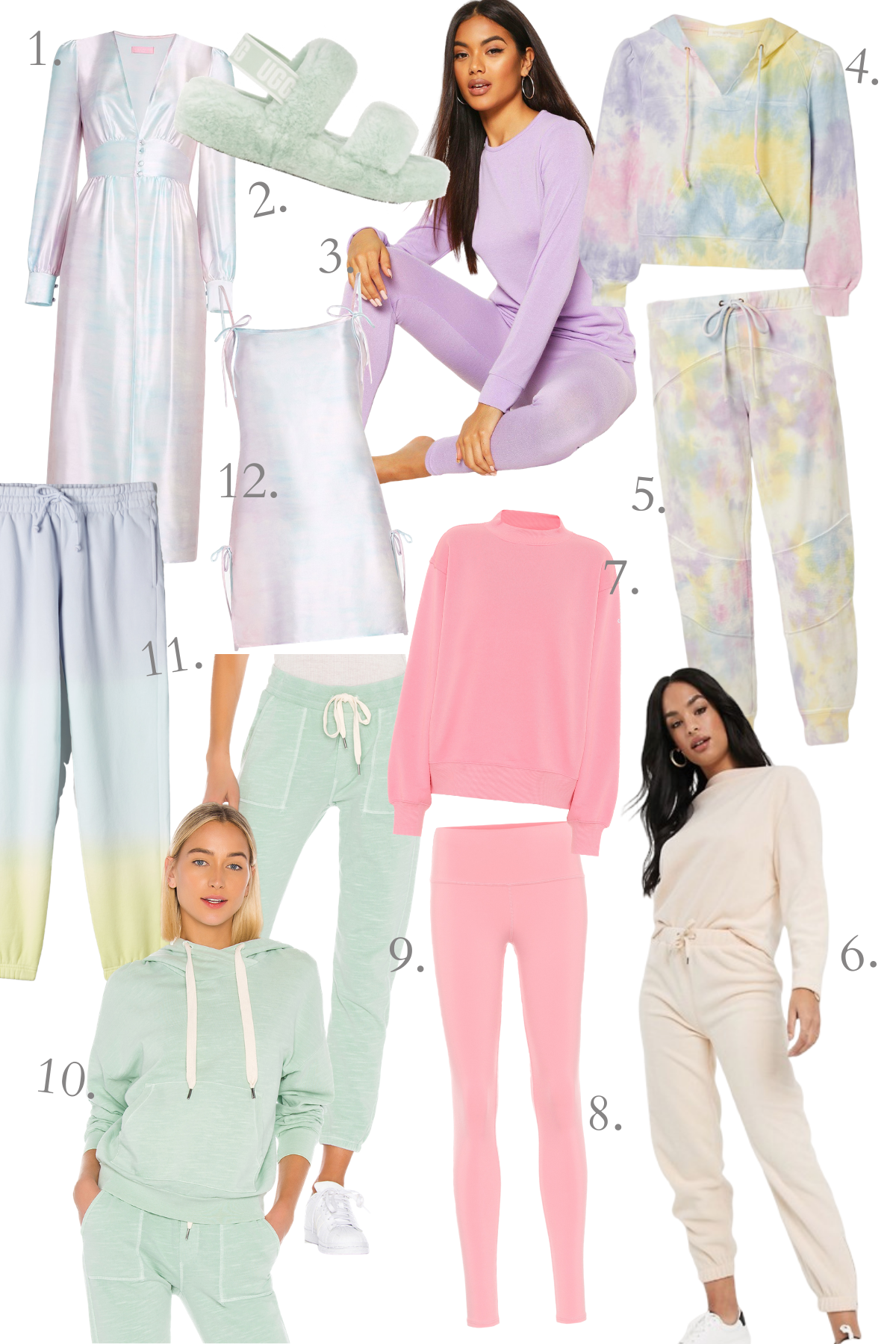 1. HillHouseHome Tati Silk Duster 2. UGG Fluff Yeah Slippers 3. Boohoo Knitted Lounge Set 4. LoveShackFancy Etty Pant 5. LoveShackFancy Kirby Hoodie 6. Micha Lounge Fleece Two-piece 7. Alo Yoga Freestyle Sweatshirt 8. Alo Yoga Airbrush Leggings 9. NSF Ozzie Porkchop Pocket Sweats 10. NSF Lissete Pullover Hoodie 11. Tna Boyfriend Sweatpant 12. HillHouseHome Tati Silk Teddy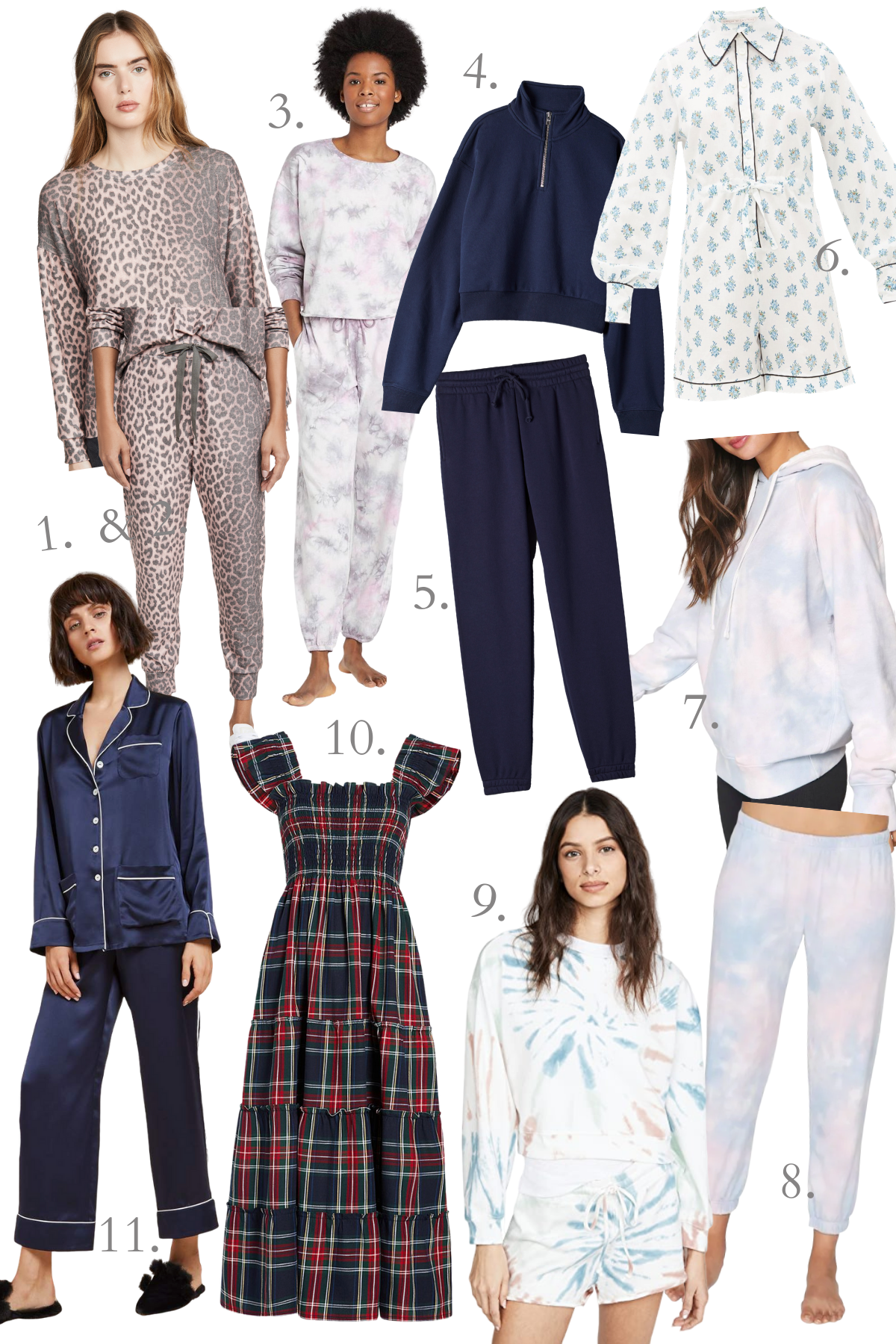 1. Sundry Animal Print Drapey Sweater 2. Sundry Animal Print Joggers 3. Target Tie-Dye Cropped Lounge Set 4. Tna Warm-Up Crop Sweater 5. Tna The Slim Sweatpant 6. Emilia Wickstead Pyjama Playsuit 7. Spiritual Gangster Love Is Tie-Dyed Hoodie 8. Spiritual Gangster Perfect Tie-Dyed Sweatpants 9. Z Supply Tie Dye Pullover 10. HillHouseHome Ellie Nap Dress 11. Olivia Von Halle Coco Navy Silk Pyjama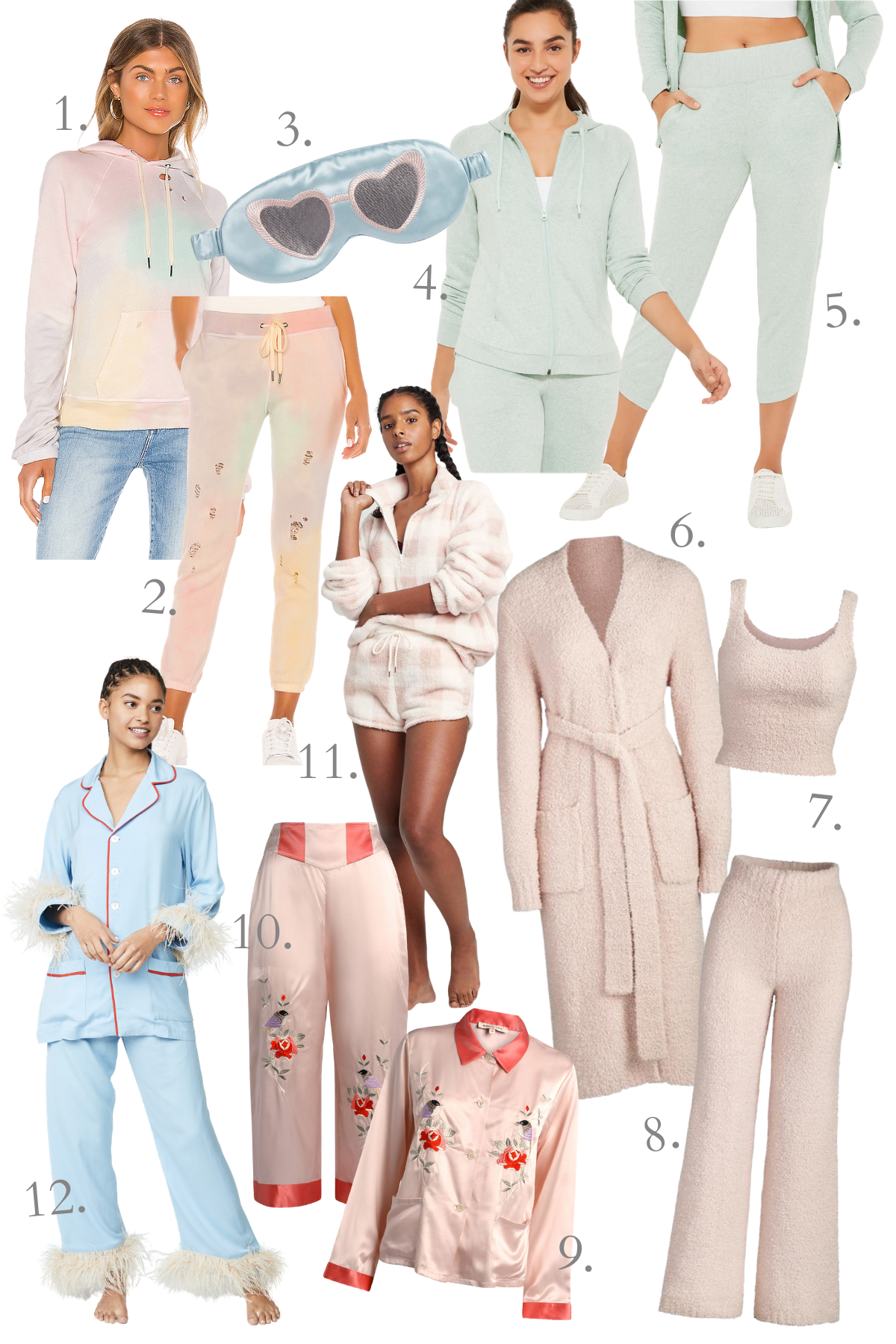 1. n:philanthropy Gamble Sweatshirt 2. n:philanthropy Derby Jogger 3. HillHouseHome Heart Sunglasses Silk Eye Mask 4. Joe Fresh Hoodie 5. Joe Fresh Joggers 6. Skims Cozy Knit Robe 7. Skims Cozy Knit Tank 8. Skims Cozy Knit Pant 9. Morgan Lane Sawyer Pyjama Shirt 10. Morgan Lane Olive Pyjama Bottoms 11. Target Buffalo Check Sherpa Lounge Set 12. Sleeper Blue PJ Set