London is my favourite city in the world, and one that I've been lucky to visit countless times in my life. Having gone often with my parents growing up, and then later doing school exchanges there as I got older, returning to London always feels a little bit like coming home. That being said, London is the city I always find changes the most in between visits. There is always a new restaurant, a cool pop-up, a lush floral installation, and a different trendy area! Each visit results in an inevitable reeducation to this amazing city and what to do there. So while this itinerary includes places I've loved lately, it's by no means comprehensive. Honestly, it barely even scratches the surface or gets you out of Mayfair! But I like what I like, and if YOU like what I like, you'll love everything in this perfect week itinerary.
Fly
If you're flying from Toronto, I love to fly with WestJet. The planes are newer and cleaner, the staff is friendlier, the service better… I prefer this airline FAR above Air Canada or Air Transat when flying to the UK. However, if you're flying First Class, take British Air.
To get into the city, take the Gatwick Express (or the Heathrow Express, if you fly into that airport) into the city centre. It is cheaper than a cab, and far faster than the tube.
Stay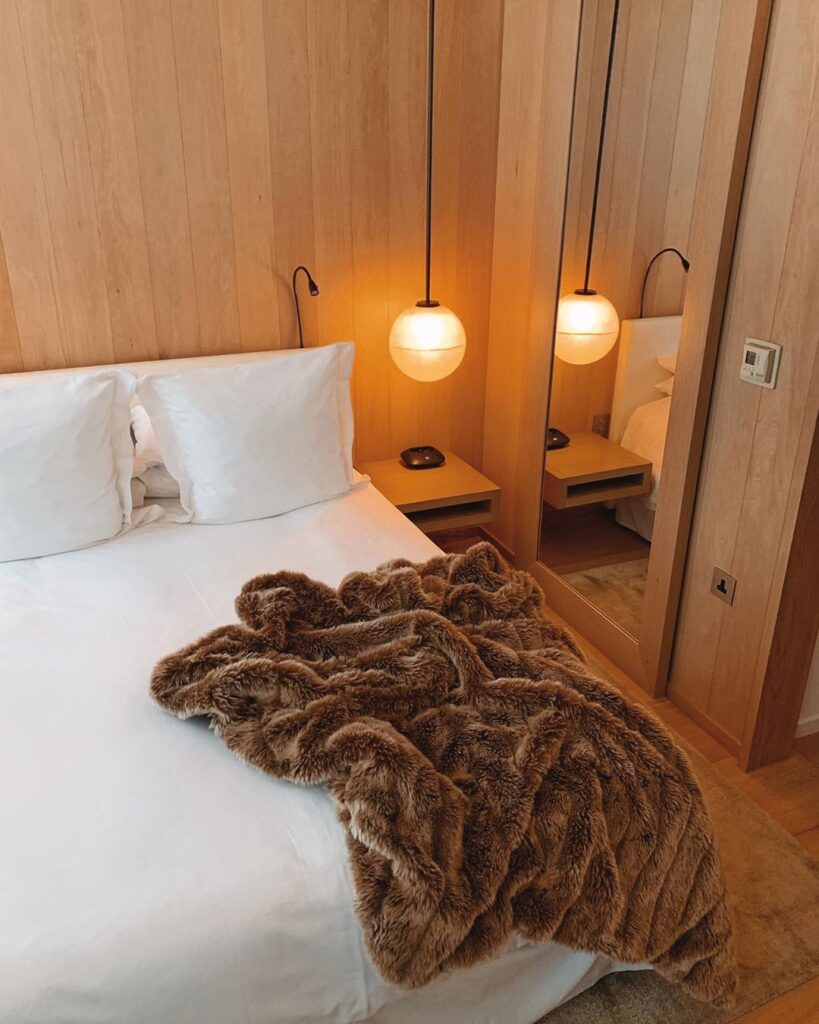 I still haven't found my perfect London stay. I really like the Edition, the JW Marriott Grosvenor House, and the Soho Hotel. My favourite in terms of the sweet spot for location, style and price point is the Dorset Square Hotel, part of the Firmdale Hotel Group. On my hotel bucket list there? The Lanesborough, Hotel Café Royal, Artist Residence, Ham Yard Hotel and Chiltern Firehouse.
Day 1
For the sake of this Itinerary, I'm going to assume you took the red-eye on Friday night (which I always do) and arrived first thing on Saturday morning. I'm going to also assume you're staying in Mayfair or SoHo, as this is where I love to stay!
So, check into your hotel and freshen up if you can, or drop your bags and get walking – it's proven that the best way to kick jet lag is to get outside! Pick up a coffee at Kaffeine, and then why not jump on the tube and just go straight to mecca: Harrods. Spend an afternoon getting lost, and don't just hit the Food Hall and peruse the clothes and be done with it. Harrods has it all. The Wellness Clinic has everything under the sun to set you right for a week ahead – why not get a vitamin drip in between shopping sprees, get a piercing at Maria Tash, or visit the Tiffany Blue Box Cafe?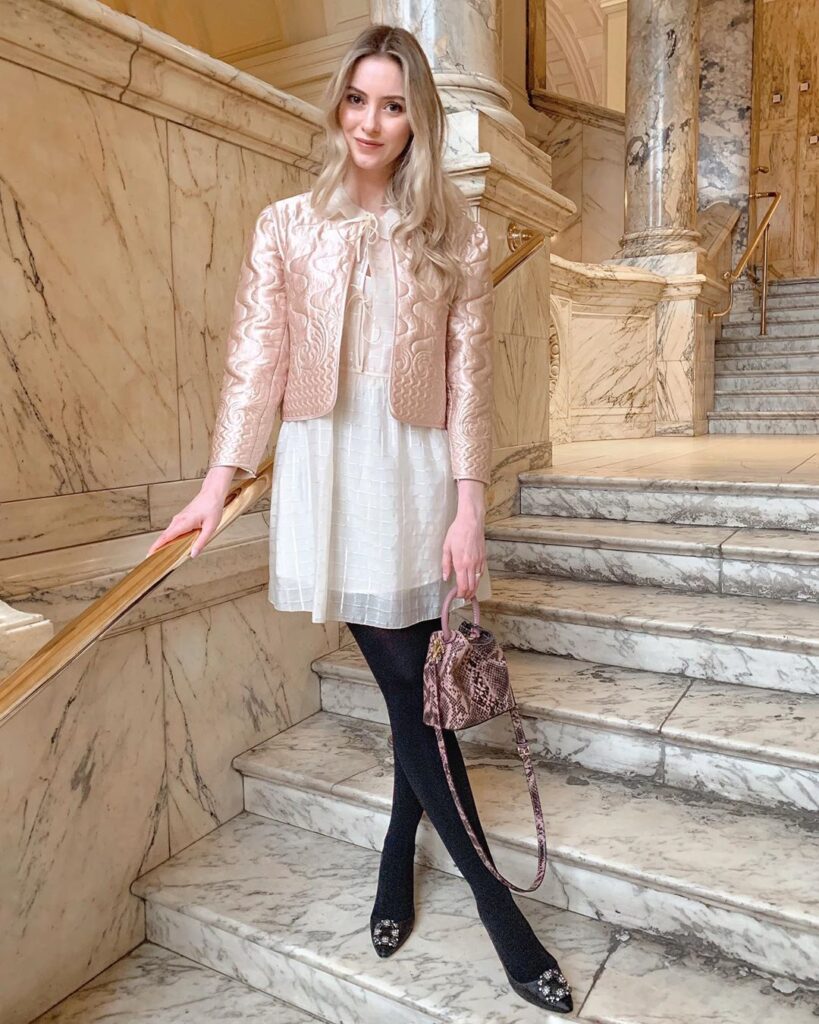 Speaking of shopping, do set yourself up with the free Global Blue membership before your trip. It makes tax-free shopping so much easier, because one of the best parts about visiting London is getting the VAT from your purchases back when you leave!
Next, do a quick trip to the Victoria & Albert Museum. I say quick, because it is massive and, at times, overwhelming. Hit the exhibits you're interested in, and then the fashion section, and be on your way!
Get back to your hotel to unpack, freshen up and settle in. For a first night dinner, I can't recommend Delfino enough. Located on luxurious Mount Street in the heart of Mayfair, this cozy, family-run place makes some of the best pizza & lasagna you'll ever have, and their Insalata di Spinaci is my dream salad – perfect for lunch or for splitting as an appetizer. This place is exactly what you need to fill your stomach and soul after a long travel day.
Day 2
Sunday mornings mean one thing: Columbia Road Flower Market. Get there at 8am, especially if you are planning to take photos for Instagram, as it gets packed!
I'd love to fill your day from here with an itinerary based on that side of town, but I'm not as familiar with Bethnal Green or the surrounding areas as I'd like to be! I do love coffee at Nude Espresso in Spitalfields or Shoreditch Grind, which aren't far away. If you're staying till dinner, BRAT was a very, very memorable meal for us. And you can't go wrong with Dishoom. In fact, you must go to one of the Dishoom locations while you're in town. The wait will be long, but it will be worth it.
In any case, the glorious fact about London is that with the Tube, nothing is very far away, so after the Flower Market, why not just head to Instagram destinations like The Queen's House and NOW Gallery?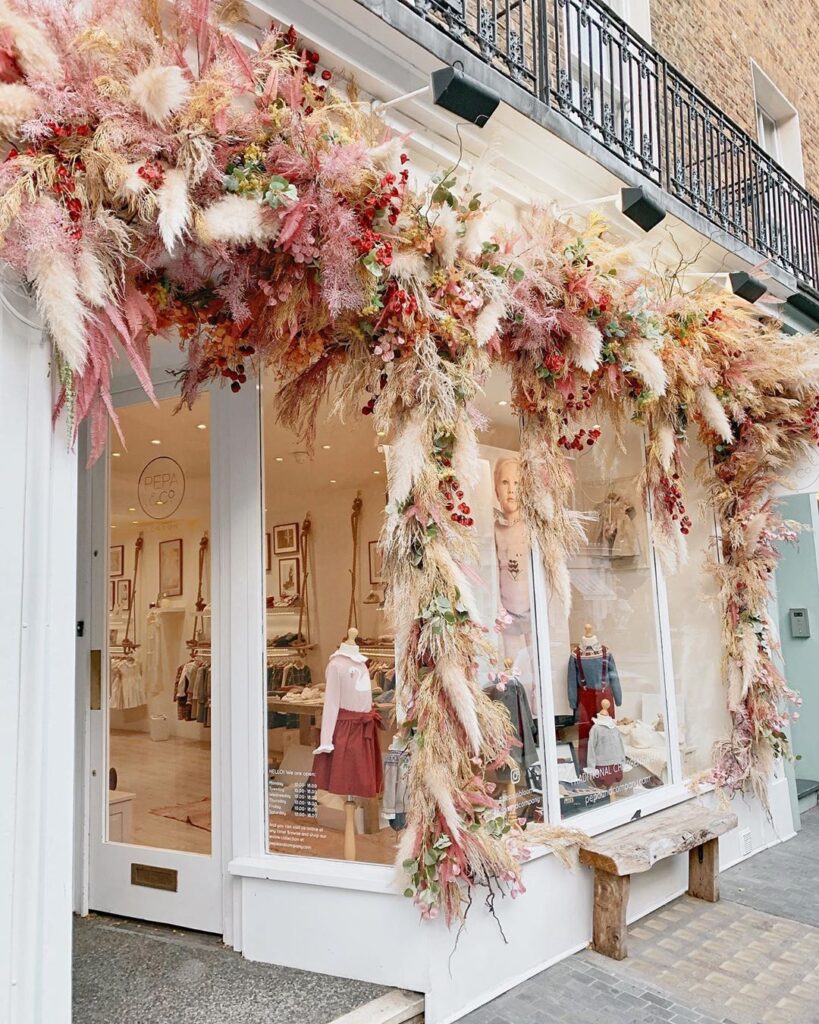 Or else, go the opposite way, and straight to Belgravia, and specifically to Elizabeth Street, my favourite place in the world. Admire all of the beautiful floral arches, the floral ceiling at Moyses Stevens, and of course take the requisite Peggy Porschen exterior photo. From there, meander to the surrounding Sloane Square and Chelsea, stopping at:
Saatchi Gallery
John Sandoe Books (interior and exterior goals)
Sophia Webster
Manolo Blahnik
And for lunch? Juicebaby if you're feeling something healthy, or Bluebird if you want a beautiful spot to relax for a little bit.
Dinner has simply got to be the Sunday Roast at Blacklock Soho. It is beyond and so cozy after a long day. You'll need to book in well in advance.
Day 3
Breakfast at Chiltern Firehouse. Get the pancakes. Or the truffle eggs.
Selfridges is next. I could spend the day there. Start with the Signature Sculpt at FaceGym (a MUST), and then pop in for a blowout across the beauty hall at Hershesons. I also adore DryBy for amazing blowouts and they do beautiful nail art too, so if you don't mind leaving Selfridges, I also highly recommend going there.
You won't want to miss the Olivia Rubin pop up at Selfridges, either. Treat yourself to something rainbow. You will not regret it.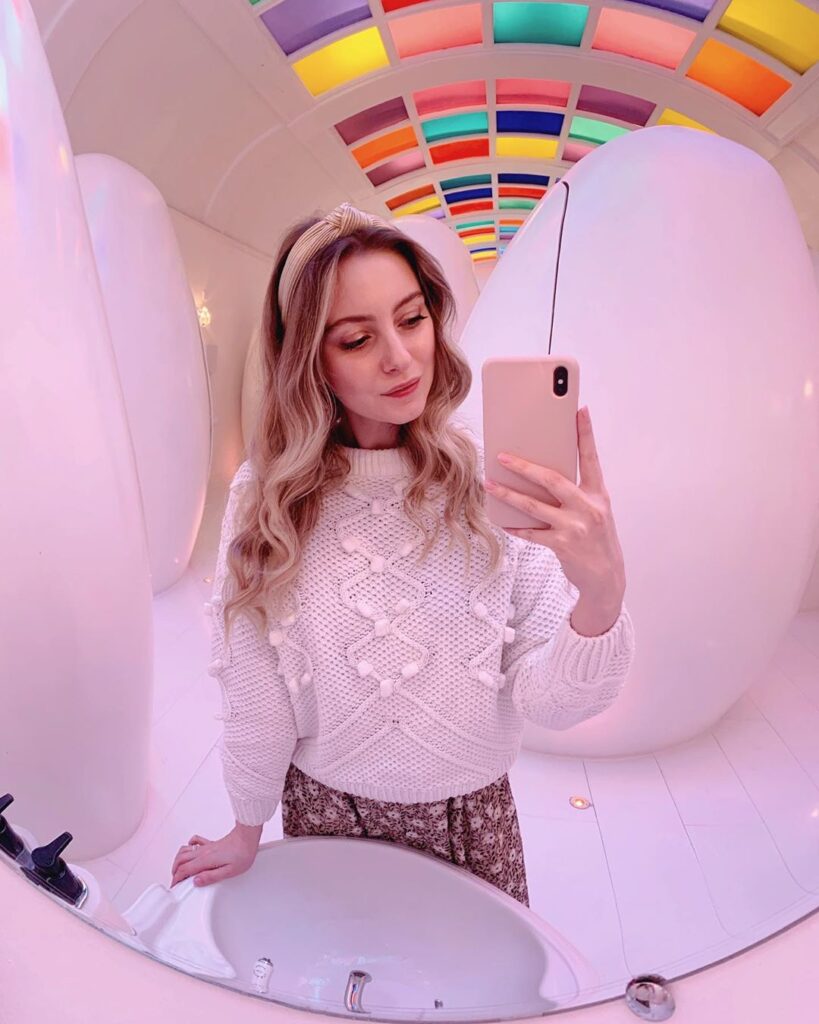 Afternoon Tea at Sketch London. It's expensive and worth it, for the photo opportunities and bathroom selfies alone. It helps that the food is delicious. Otherwise, Brasserie of Light inside Selfridges is divine, and equally as good an opportunity for a stunning bathroom selfie.
Afterwards? Shopping in and around Oxford Circus, Bond Street & SoHo! Don't miss:
Liberty
Primark – stock up on Alessandra Steinherr's line of beauty products
Fenwick – another department store. I don't love the store layout or design as much, but they have an excellent advanced contemporary buyer so the selection is A+++
Crème Soho – beautiful ooey-gooey cookies and a facade made for Instagram photos
Elan Cafe – for a photo, and a cuppa if you need a little break!
Fancy a spot of culture? I LOVED my stop at The Wallace Collection, a free, and formerly private art collection in the most beautiful building. I was lucky enough to visit during the Manolo Blahnik exhibit, which I still dream about.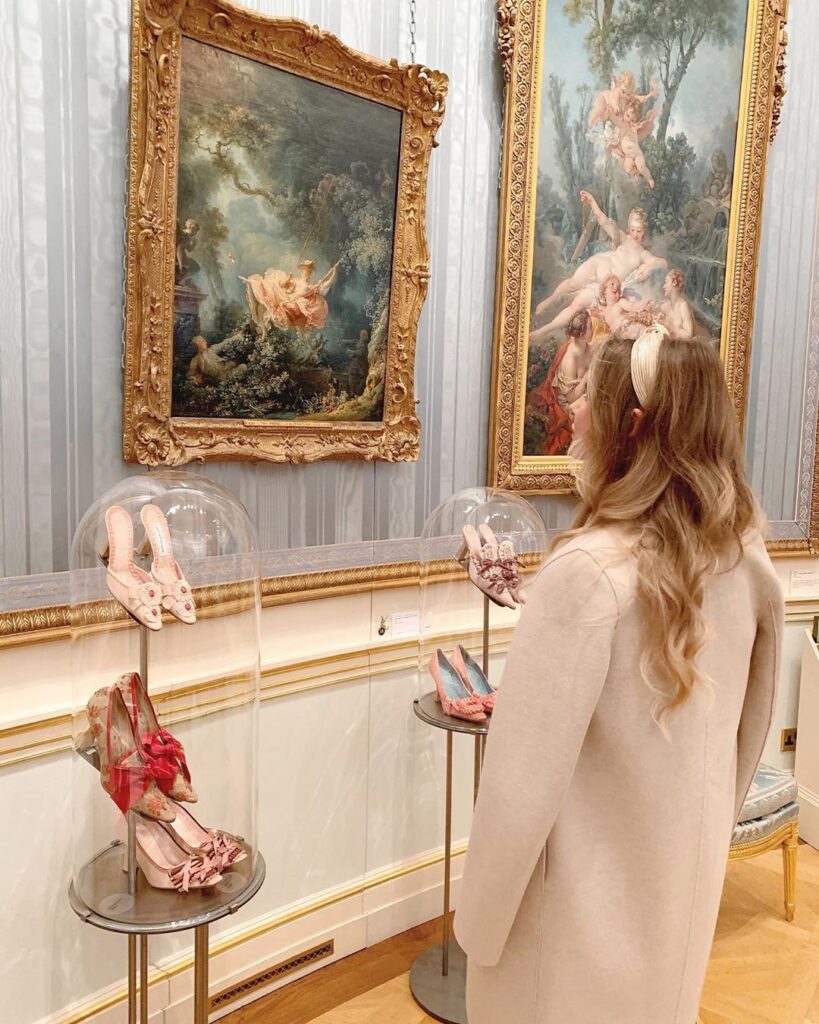 Your picture-perfect day can only end with dinner at Bob Bob Ricard. Press for champagne. Take photos. Indulge. It's heaven.
If you're still going, go for drinks at The Blind Pig, which you'll find above Social Eating House. It's unmarked, so look for the the blindfolded hog door-knocker under the vintage "Optician" sign.
Day 4
Wake up and take the tube to Notting Hill Gate. First things first: find the street of colourful homes and get your photo in before it gets too crazy busy. You'll find them throughout the area, but a great spot is at Hillgate Place & Farm Place.
Once you've got "The Shot," it's time to shop:
Sister Jane
Sézane L'Appartement
Matches Fashion
Once you're all shopped out, stop for lunch at Farm Girl Notting Hill. I also love Granger & Co..
Day 5
It's a lovely day for Covent Garden & Neal's Yard! Take the tube there and then just get lost. It's almost better not to have an itinerary for this day, but here are some places you should look.
Wild Food Cafe for a salad lunch, or 26 Grains for healthy porridge breakfast!
Or perhaps Spring for lunch, or just an Instagram photo!
Maybe pop into The Beaufort Bar in The Savoy for drinks, too.
Stance, where you'll get the significant man in your life some colourful socks. My husband adores his.
Dishoom? I told you, you have to go to Dishoom!
When you're done in Covent Garden (and you're never truly done), walk over to the British Museum. I don't love sightseeing, but London has some of the most beautiful museums in the world, it would be a shame not to see them while in town. Additionally, since there is debate about whether the Elgin Marbles will be staying or leaving in the midst of Brexit, it might be worth seeing them while you can!
On your way back to your hotel, pop up to Heal's just to get inspired, and then to Alex Eagle Studio for the same… okay and also for an Instagram photo.
Dinner at Lina Stores. Pasta and perfection. You must book ahead as this place is very popular.
Day 6
Start your day by taking the tube to Borough Market (from Weds-Sat, it's in full market). Grab a fresh juice, a coffee, and then just let the selection move you. If you're like me, you may also get a mulled wine for breakfast… why not? You're on vacation.
Keep walking to the Tate Modern, one of my favourite museums on the planet. The Rothko room will make you feel centred in the middle of London's occasional frenetic energy.
Walk across Millennium Bridge. Try not to get flashbacks to this scene in Harry Potter.
Spend the afternoon doing all of the things you didn't get a chance to! Pack in advance, as tonight, you'll be having a few drinks.
Your final dinner should be at The Wigmore. Elevated British fare in a beautiful environment, with cocktails that knock your socks off, it's the ultimate London farewell.
Day 7
The perfect final day to end to a week in London? Well, if it's up to me, it ends at St. Pancras station, where you catch the Eurostar for another dream week in Paris! Don't worry, I've got an itinerary for that coming up, too.